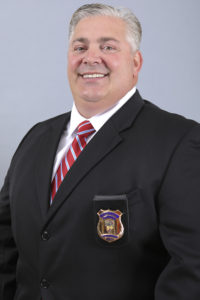 Deputy Chief John Brnjic was born and raised in Cleveland Ohio, he is a graduate of Charles F. Brush High School, Deputy Chief Brnjic enlisted and served 6 ½ years in the United States Navy.
In 1996 Deputy Chief Brnjic graduated the Cleveland Heights Police Academy and was sworn in as a Police Officer for the City of Newark, November of 1999. During his time as a patrol officer, Deputy Chief Brnjic has held the positions as;
– Patrol Officer
– Field Training Officer
– Narcotics Detective
– Major Crimes Detective
Sergeant Brnjic was promoted to Sergeant in July 2007 and held positions as;
– Patrol Street Sergeant
– Sergeant of Neighborhood Impact Unit
– Records and Communication Supervisor
– Team Leader of the Hostage Negotiation Team
– Most recently as Detective Sergeant
Deputy Chief Brnjic earned his Bachelor's Degree in Criminal Justice from Columbia Southern University, and his MBA in Leadership and Human Resources from Tiffin University. Professionally Deputy Chief Brnjic is a graduate of The Northwestern School of Police Staff and Command; class 281
In addition to his duties at the Newark Division of Police, Deputy Chief Brnjic served as Commander of the Basic Police Academy at the Central Ohio Technical College.
Deputy Chief Brnjic is married to Victoria Brnjic for the past 32 years and they are proud parents to Daniel Brnjic, who is currently serving as an Ensign in the United States Navy.